At Endaoment, we're constantly looking for new ways to build effective crypto philanthropy solutions. From listening to our donors and orgs, we know that cryptocurrency holders need a straightforward, affordable way to give digital assets to their favorite causes, and that nonprofits need a low-cost, approachable means of accepting these gifts.
Today, we rolled out a new feature which delivers on both of these needs: Direct Donations.
Every Nonprofit Accepts Any Cryptocurrency
Every qualified US nonprofit organization is now equipped to receive crypto-backed donations directly via Endaoment, and every newly created qualified 501(c)(3) will be automatically added to our system.
When visiting a deployed organization's profile on Endaoment, you'll notice a new "Donate Now" button. This allows crypto holders to contribute ETH or any ERC-20 token directly to their favorite nonprofits via our battle-tested giving platform. Assets on other blockchains such as Bitcoin, Filecoin, and Helium, can also be gifted directly Over The Counter.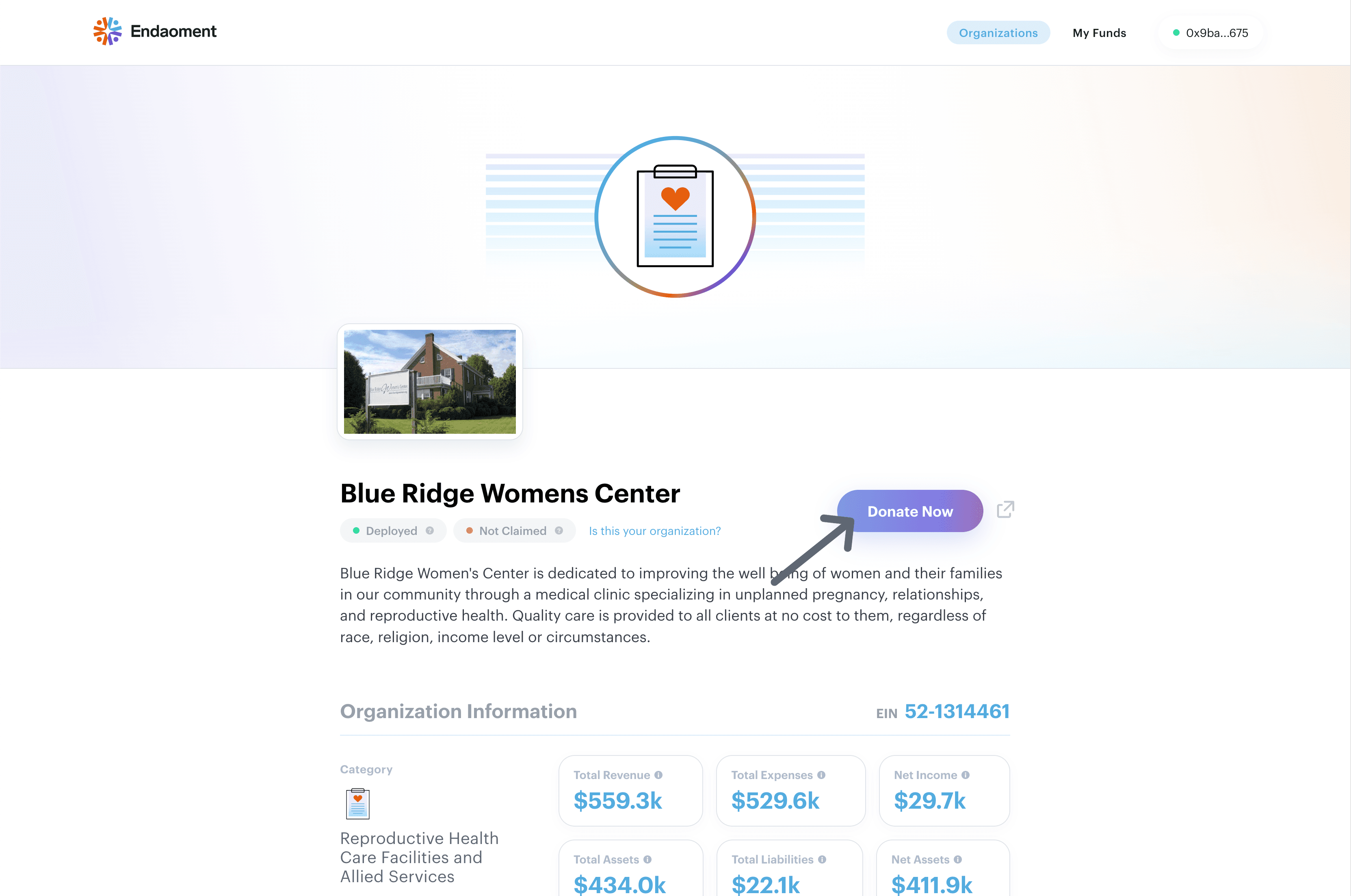 (Still) The Industry's Lowest Fees for Donors
Just like when giving to Endaoment's Donor-Advised Funds, we charge an industry-low 1.5% on all Direct Donations. This remains drastically lower than average for donor fees, and is weighted towards distribution to nonprofits (0.5% incoming, 1% outgoing).
Further emphasizing our focus on throughput, gifts made via Direct Donation are unrestricted. This allows recipient nonprofits to allocate funds where they are most needed. (Donors may continue to designate gifts from DAFs and Community Funds to a specific purpose or program.)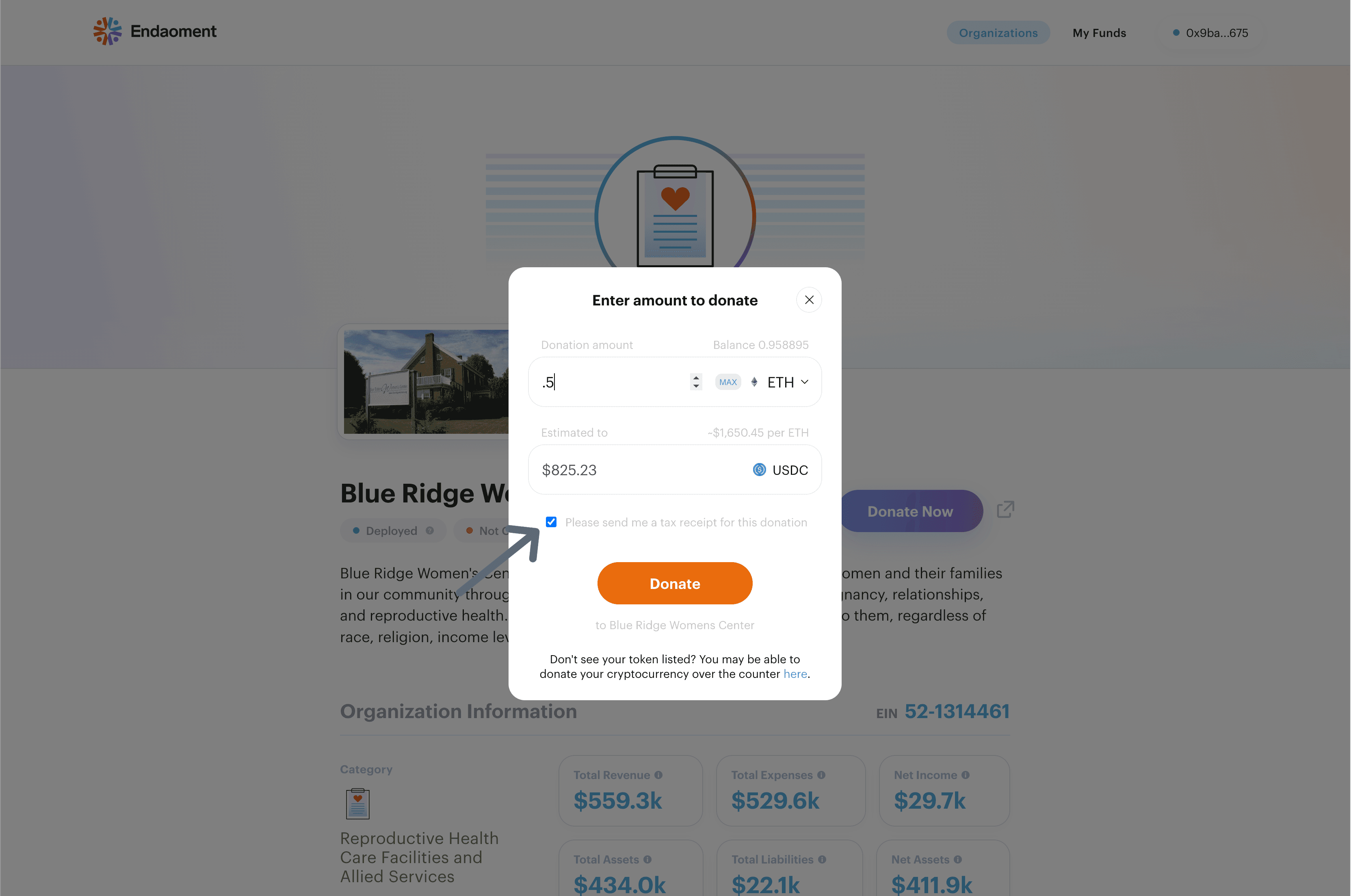 Our Commitment: No Charge to Nonprofits
As a 501(c)(3) organization ourselves, Endaoment feels strongly that this philanthropic crypto off-ramp should operate as a Public Good Infrastructure. We have never billed nonprofits for our services, and this isn't changing now. As described above, donors pay a 1.5% fee, which covers our operational expenses.
For nonprofits receiving Endaoment Grants with a U.S. bank account, we'll continue deducting the $15 wire fee charged per withdrawal by our financial institution. Transfers made to nonprofits with existing crypto wallets remain completely free.
Designing Human-Centered Systems
With the launch of Direct Donations, Endaoment is furthering its mission of building the most affordable, efficient, and rewarding pathways from crypto to social impact, and this is still only the beginning.
With help from our donors, we are continuing to develop new tax advantageous crypto giving strategies, and are looking forward to welcoming a new legion of nonprofits into the crypto philanthropy world. As always, we extend an offer of partnership to every organization taking their first steps in the web3 landscape.
Learn more about Direct Donations and how to donate directly to nonprofits at docs.endaoment.org.